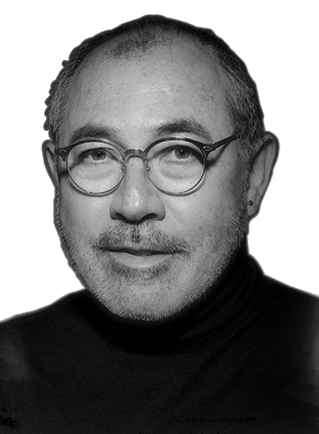 L'artiste par lui-même:
I like that my work challenge the spectator, so his eyes can find what emerges occult –intentionally or not- from the abstract forms – the shapes, color, approach, representation, light, shadows, the white or the color- and to complement them with his emotions and feelings, always searching for beauty and esthetics, to merge one glimpse into one look. I like to present my art to look at and through it, to discover, that the microscopic representations of matter will give shape to the macroscopic forms presented in 2D or 3D. My work goes from the absent of color through all color tones, to go as far as the pure blend of all of them. I like millimetric precision in the use of elements, juxtaposition of points (but not for pointillism), lines, use of sheets almost imperceptible to the eyesight, to build and immerses the viewer into a world free of rules but full of colors and expressions of a crystalline world of my reality. I like to create forms, that this forms create tales, that the tales tell stories, stories of daily life, -my, the observer or the world-, including passion, agony, suffering, strength or will, which could be a chaos or could end in peace. I prefer to work in large formats using acrylic on canvas and for 3D relieve rapid strength cement, gypsum or expanded PVC.
Biographie
De son vrai nom Armando Garcia Luna, Garlun est né à Monterrey au Mexique lorsque le pays baignait dans un courant grandissant au niveau culturel et intellectuel en Art moderne, courant qui succédait au mouvement avant-gardiste européen.
Son talent et sa créativité, nous pourrions même dire sa passion pour les arts in extenso, ont été le moteur dans sa recherche permanente de la beauté et de la compréhension de l'univers humain. Lorsqu'il commença ses études dans les Arts Plastiques vers la fin des années 1960, il s'imposa dans différents domaines tels que la peinture, le stylisme et directeur artistique de téléfilms pour la télévision mexicaine.
Sa démarche scientifique, son approche spirituelle l'ont poussé à rechercher, risquer avec succès, imaginer, créer et concrétiser, chercher et trouver, pour finalement, nous introduire, dans un monde de représentation picturale allant de l'absence totale de couleur, vers une déclinaison fusionnelle en arc-en-ciel de nuance, jusqu'à atteindre l'ultime pureté de chacune d'elle.
Du reste, Eduardo Jiménez, Art Thérapeute, décrit son œuvre comme un « défi au spectateur.[… ] Il nous plonge dans un monde sans règles, […] dans une explosion de couleurs et d'expressions.[…] Partant d'un point de vue microscopique de la matière brute, qu'il connaît bien, usant de la précision millimétrique des éléments, juxtaposant les points (sans être pointilleux), les lignes, l'utilisation quasi-imperceptible à l'œil de feuilles en couches successives, il construit et nous immerge dans le monde cristallin de sa réalité.[…] Finalement, les reliefs façonnent des formes, les formes créent des contes, ces contes nous racontent des histoires, ces histoires quotidiennes, [les] siennes et [les] nôtres, [empreintes de] passion, intense, de force de volonté, [qui nous mène] au chaos ou [à] la paix ».
Expositions
Jul 2016 And life begins, Galerie Rare et Contemporain, Saint-Bonnet-Le-Froid, France
Jun 2016 Mayan Vision, Galerie Espacio, Lausanne, Switzerland
Mar 2016 Labyrinthes de la vie, Drexel Gallery, Monterrey NL, Mexico
Dec 2015 Visions, Hotel de la Gare Gallery, Lucens, Switzerland
Sep 2015 Rencontres, Gallery Art & Emotion, Lausanne, Switzerland
Apr 2015 Joyaux mortels, Debiopharma Gallery, Lausanne, Switzerland
Mar 2015 The Mysterious Mayan Legend, Mexican Embassy, Bern, Switzerland
Nov 2014 Variation II, CarArt Gallery, Crissier, Switzerland
Jun 2014 Rencontres improbables. Gallery Hotel Landgasthof-Riehen (Riehen)
Apr 2014 L'énigmatique légende Maya. A La Chotte Gallery ,(Romanel-sur-Lausanne)
May 2013 Variations, CarArt (Lausanne)
Apr 2013 Variations. Gallery Hotel Landgasthof–Riehen (Riehen)
Participation Expositions collectives
Jun 2016 L'Homme réinvente par la science, Exposition Art'Place - Fondation Brocher, Genève, Switzerland
Sep 2015 Refranes, Gallery Espacio, Lausanne, Switzerland
Jan 2015 Narratives, Gallerie Art & Emotion, Lausanne, Switzerland
Jun 2014 Abstractions, Abstractions, Gallery Art & Emotion, Lausanne, Switzerland
Mar 2014 Couleur du Printemps, Swiss Art Space, Lausanne, Switzerland
Mar 2014 Artraction, Genève, Switzerland
Jun 2013 Nord & Sud Galerie du Tilleul, Champtauros, Switzerland
Jun 2013 Erotica, Espace Swiss Art Space, Lausanne, Switzerland
Mar 2013 Galerie Art & Emotion, Lausanne, Switzerland
Dic 2012 Galerie Nelly L'Eplattenier, Lausanne, Switzerland
Nov 2012 Exposition CarArt , Lausanne, Switzerland
Jun 1972 Galerie EAP, UANL, Monterrey N.L., México
Jun 1971 Galerie EAP, UANL, Monterrey N.L., México
Site de l'artiste
http://www.garlun.com/fr/